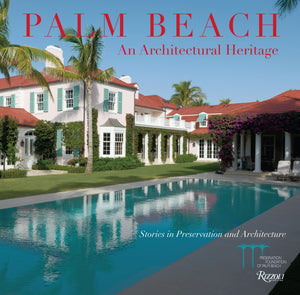 Palm Beach: An Architectural Heritage
With its lush gardens, palm tree-lined promenades, and romantic homes, Palm Beach has long been considered a playground for the rich and famous. Resplendent with old grandeur, Palm Beach houses and gardens are the subject of this elegant volume, detailing the meticulous restorations of thirty-eight grand estates and public buildings in this exclusive resort town.
Palm Beach: An Architectural Heritage, awes and inspires by showcasing historic properties that have received the Preservation Foundation of Palm Beach's coveted Robert I. Ballinger Award.  First presented in 1988, the award commemorates a restoration or rehabilitation that best exemplifies the traditions of Palm Beach's original houses and the architects who designed them. From Casa de Leoni to Junglewood, El Castillo to Las Palmas, the houses of Palm Beach are fantasies of splendor that inspire dreams of fine living in the sun amid beautiful, fragrant gardens. Public and private structures designed by architects Addison Mizner, Joseph Urban, Marion Sims Wyeth, John Volk and Maurice Fatio are included as well as those by less recognized architects and builders whose feats of imagination rival those of the most celebrated professionals.