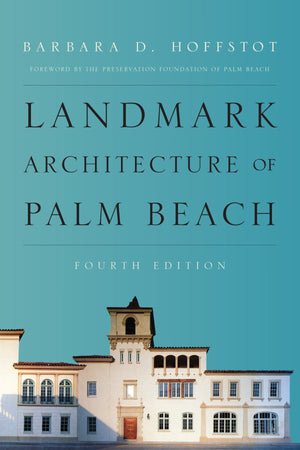 Landmark Architecture of Palm Beach, Fourth Edition
Palm Beach is a remarkably small town to be so famous; its population is only a little over 10,000. Nor is it an old town: the oldest extant building dates from about 1885, and the town itself was not incorporated until after 1900. What has granted Palm Beach its fame is the same combination of elements that made Bath famous in the 18th century: a very few clear-sighted men—they can be counted on the fingers of one hand, wealthy families attracted to what these men had to offer, and some remarkable architecture built when wealth and vision intermingled.

This book records that architecture. The contents are strategically arranged, so that the visitor can drive or walk the area and see the buildings' location sequence. Readers will find nearly 350 historic Palm Beach buildings within this compendium of photographs and descriptive text. The Preservation Foundation of Palm Beach supplemented Barbara Hoffstot's original landmarks to include buildings that are officially protected by historic designation. The book does not attempt to evaluate, but rather to exhibit the richness and diversity of this extraordinary place.

The work of famous architects is featured, notably that of Addison Mizner, Marion Wyeth, Maurice Fatio, Howard Major, John Volk and the designer Joseph Urban. Also covered are the famous Breakers Hotel, the Bath and Tennis Club, the Everglades Club, and the shops of Worth Avenue.