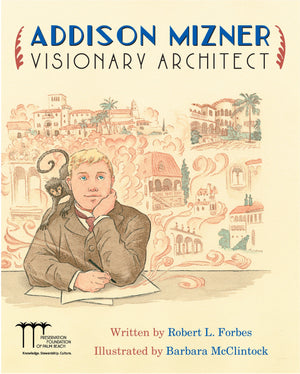 Addison Mizner, Visionary Architect
This spring the Foundation will publish the first highly illustrated middle-grade (ages 8—12) book on Addison Mizner. Addison Mizner, Visionary Architect is written by celebrated children's book author Bob Forbes and illustrated by Barbara McClintock, an award-winning children's book author and illustrator. For the first time, the fascinating story of Mizner's formative years will come to life through this imaginative retelling of Mizner's life.
Prior to his arrival in Palm Beach, Mizner led a life of adventure—from panning for gold in the Yukon to boxing in Australia—and the book will focus on how his travels shaped his architectural vocabulary. Young readers and adults alike will delight in reading about the man who defined Palm Beach style. Addison Mizner, Visionary Architect has been several years in the making, and it will significantly contribute to the growing scholarship on Mizner.
© 2023 Barbara McClintock. Used by permission of Dunham Literary